SEOGHØR.NO: Tradisjonen tro var det Hollywoods yngre garde som fikk mest oppmerksomhet, da prisutdelingen «Teen Choice Awards» gikk av stabelen i Los Angeles søndag.
Som alltid var det knyttet stor spenning til hva slags antrekk de kvinnelige stjernene hadde valgt til den røde løperen
Og årets trend var utvilsomt kjoler som blottet magen.
Realitystjernen Kim Kardashian, hennes lillesøster Kylie Jenner og artisten Taylor Swift var alle blant superstjernene som hadde valgt å vise frem deler av overkroppen.
[views:embed:node_embed:block:73475]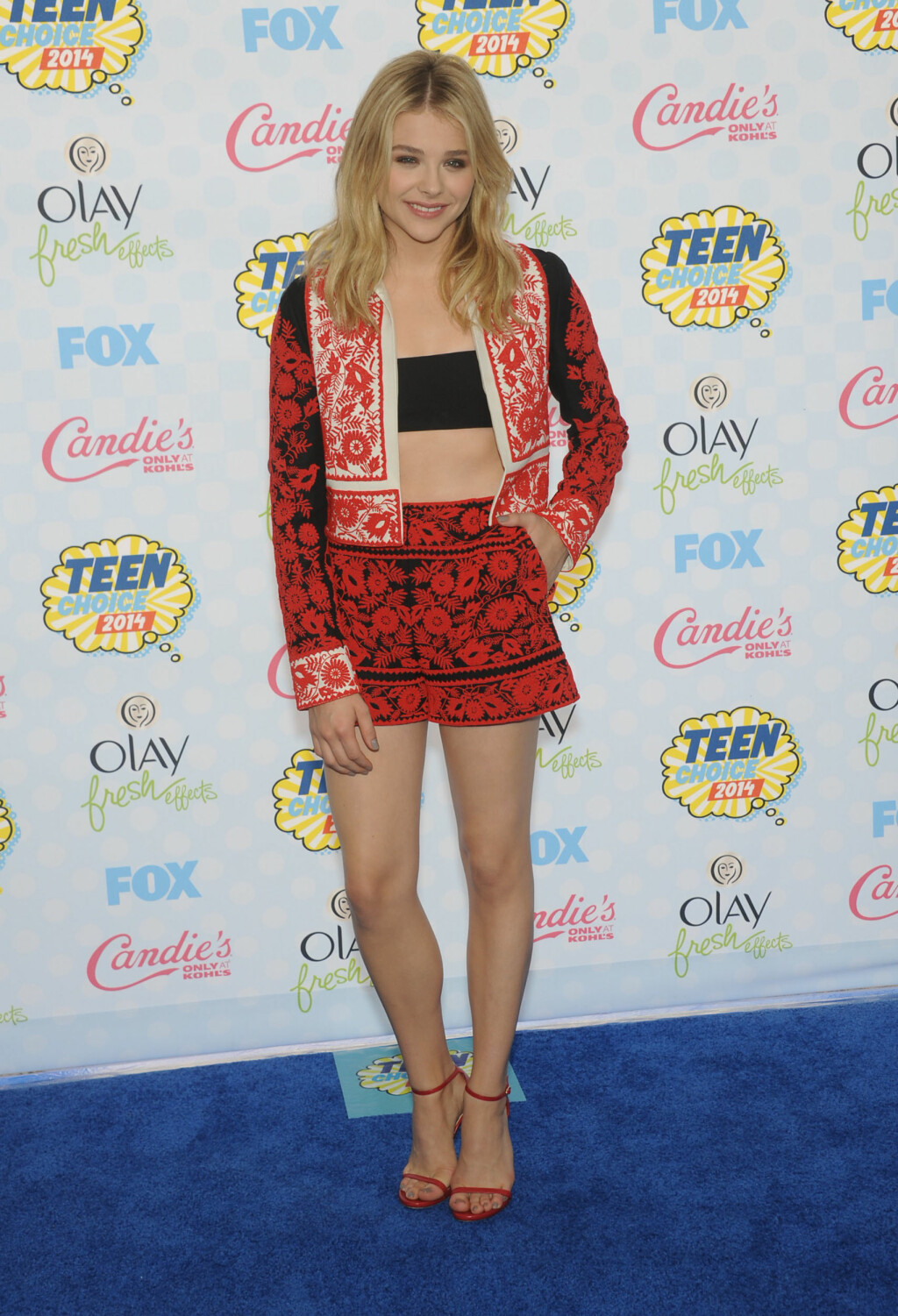 Andre som valgte å blotte magen var sangeren Jordin Sparks og skuespiller Hilary Duff og «Kick-Ass»-stjernen Chloe Moretz.
- Chloe er i ferd med å bli et moteikon. Med et så sterkt antrekk, er det lurt at hun valgte å droppe noe stort tilbehør, skryter avisen Daily Mail.
Jennifer Lopez hadde valgt en heldekkende kjole, men viste seg fra sin mest sexy side, da hun la ut bilder fra backstage-området på sin Instagram-profil.

En av kveldens store forhåndsfavoritter var Kim Kardashians andre halvsøster Kendall Jenner.
Den 18 år gamle jenta har gjort suksess som modell og var nominert i begge mote-kategorienw «Female Hottie» og «Candie's Style Icon».
I tillegg var hun nominert med resten av kvinnene i familien Kardashian/Jenner for TV-serien «Keeping up with the Kardashians» i TV-kategorien «Beste kvinnelige realitypersonlighet».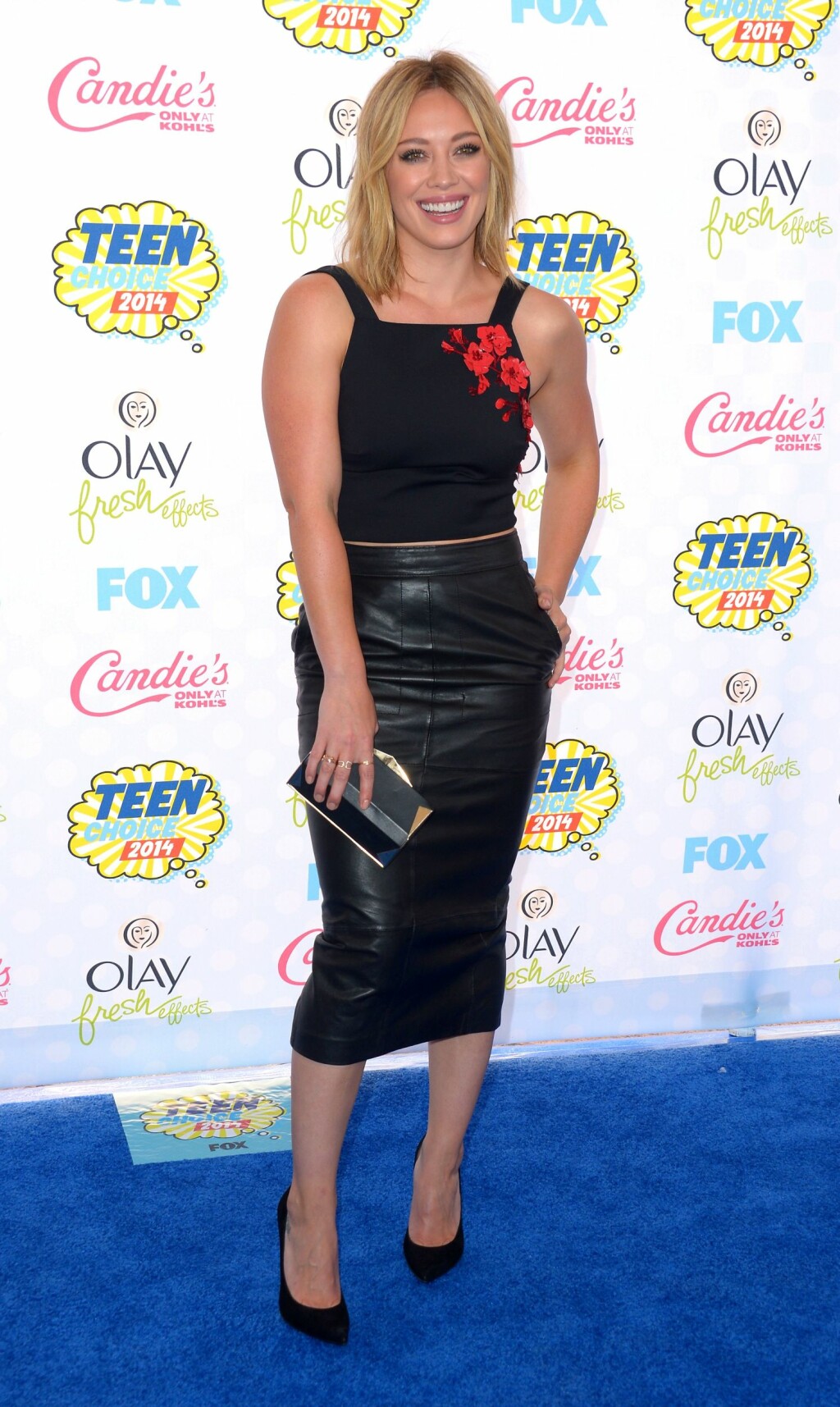 Men Kendall måtte skuffet konstatere at det «kun» ble en pris, for realityserien.
Kendall var også en av prisutdelerne på scenen, i likhet med blant andre «The Vampire Diaries»-stjernen Nina Dobrev, popstjernen Taylor Swift, «Twilight»-stjernen Kellan Lutz og sin storesøster Kim Kardashian.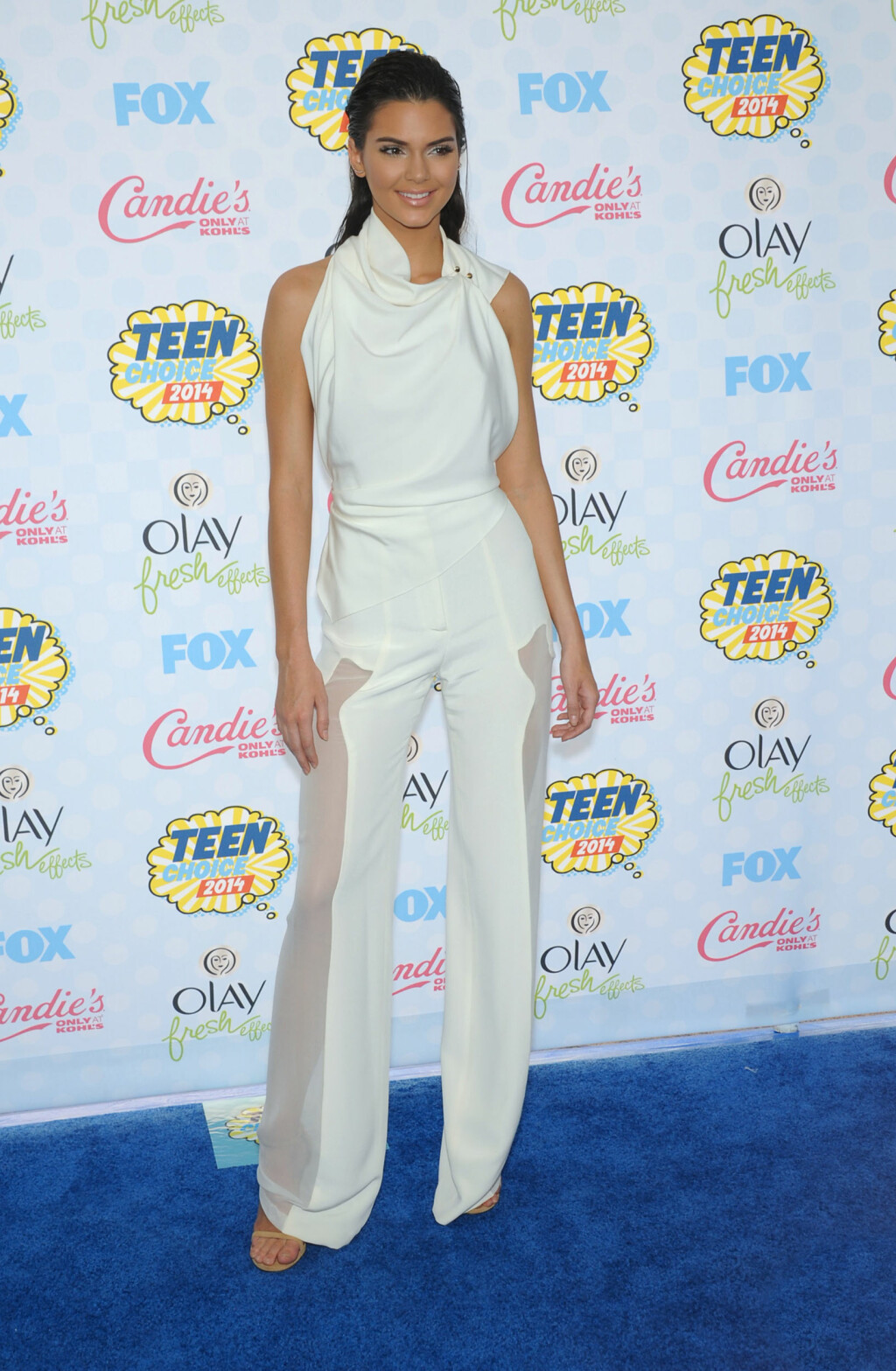 Publikum fikk også med seg opptredener av Jason Derulo, Demi Lovato & Cher Lloyd, Magic!, Rixton og Becky G.
Den britiske popstjernen og modellen Rita Ora (23) skulle også vært blant artistene på scenen, men måtte ifølge Daily Mail trekke seg før sending på grunn av sin eks-kjæreste Calvin Harris (30).
Han ga henne ikke lov til å synge deres felles sang «Will Never Let You Down», ifølge avisen.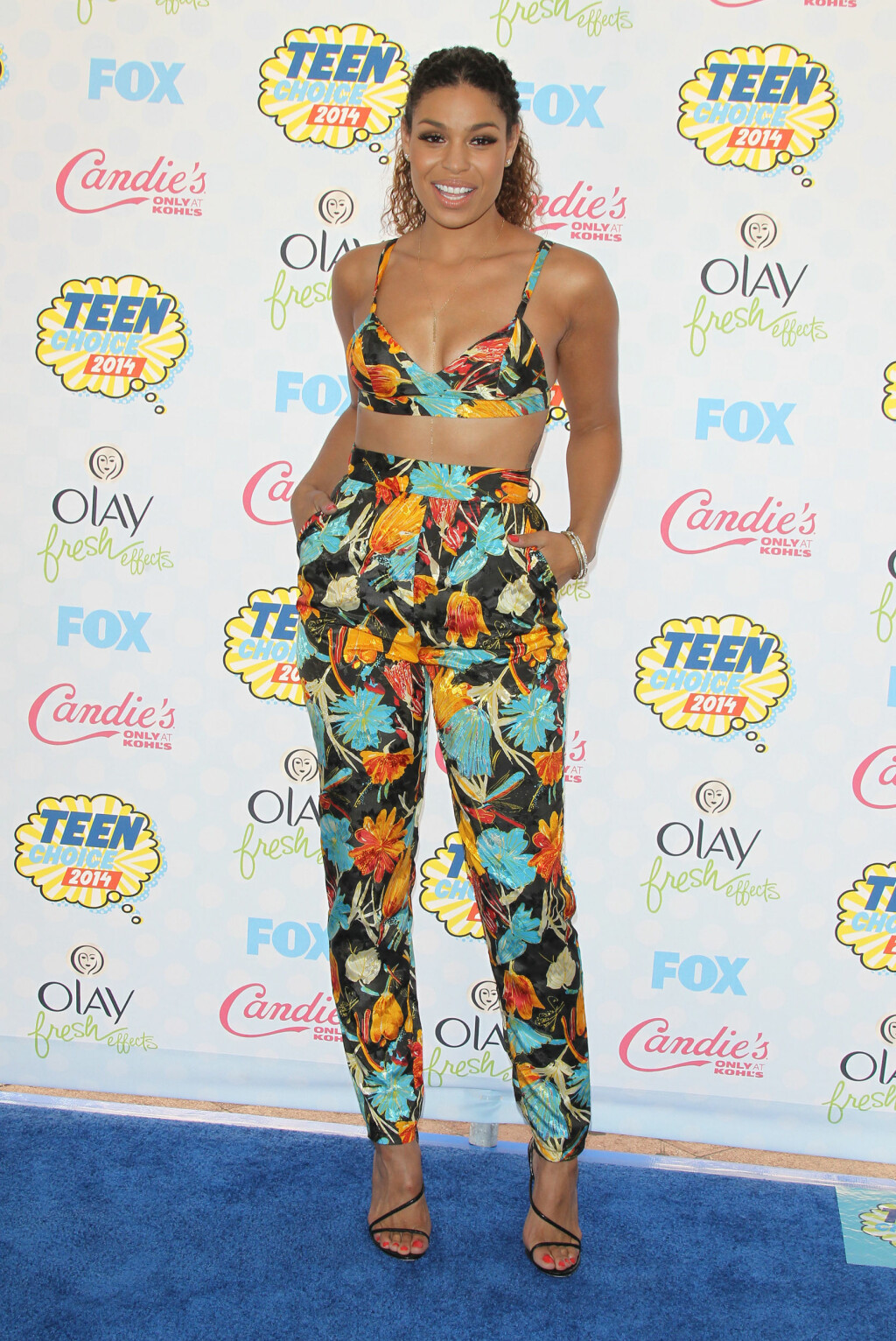 - Det er et ondskapsfullt trekk som skader både Ora og ikke minst publikum, som hadde gledet seg til å se henne, sier en kilde til Daily Mail.
Calvin Harris dumpet Ora offentlig via Twitter i juni. En av grunnene skal ha vært at han mislikte all medieoppmerksomheten rundt kjæresten.
Se alle vinnerne her: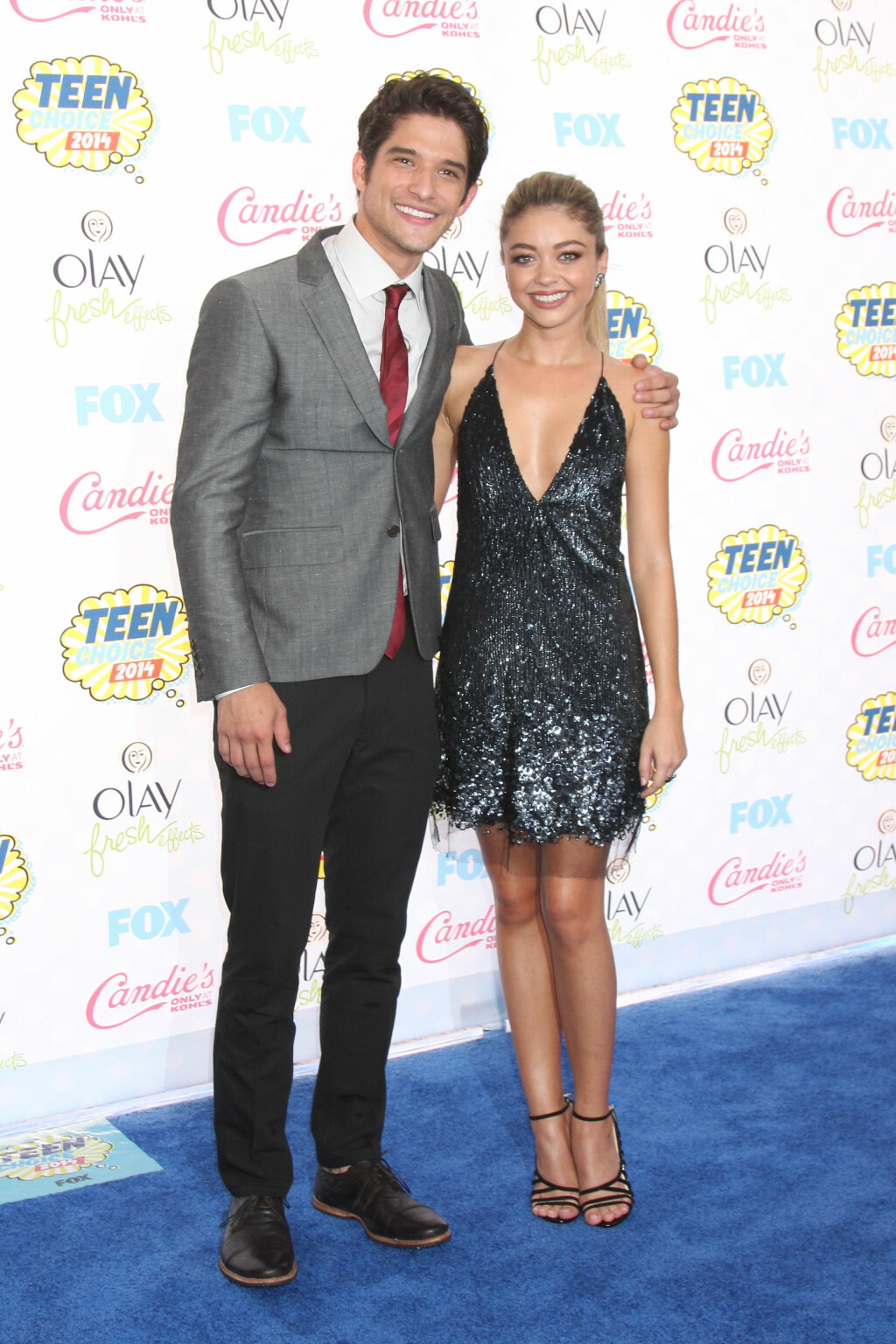 Choice Movie, Action/Adventure: Divergent
Choice Movie Actor, Action/Adventure: Theo James, Divergent
Choice Movie Actress, Action/Adventure: Shailene Woodley, Divergent
Choice Movie, Sci-Fi/Fantasy: The Hunger Games: Catching Fire
Choice Movie Actor, Sci-Fi/Fantasy: Josh Hutcherson, The Hunger Games: Catching Fire
Choice Movie Actress, Sci-Fi/Fantasy: Jennifer Lawrence, The Hunger Games: Catching Fire and X-Men: Days of Future Past

Choice Movie, Drama: The Fault in Our Stars
Choice Movie Actor, Drama: Ansel Elgort, The Fault in Our Stars
Choice Movie Actress, Drama: Shailene Woodley, The Fault in Our Stars
Choice Movie, Comedy: The Other Woman
Choice Movie Actor, Comedy: Kevin Hart, Ride Along
Choice Movie Actress, Comedy: Emma Roberts, We're The Millers
Choice Movie Villain: Donald Sutherland, The Hunger Games: Catching Fire
Choice Movie Scene Stealer: Nat Wolff, The Fault In Our Stars
Choice Movie Breakout Star: Ansel Elgort, Divergent and The Fault in Our Stars
Choice Movie Chemistry: Ansel Elgort, Nat Wolff and Shailene Woodley, The Fault in Our Stars

Choice Movie Liplock: Shailene Woodley and Ansel Elgort, The Fault In Our Stars
Choice Movie Hissy Fit: Jonah Hill, 22 Jump Street
Choice Summer Movie: 22 Jump Street
Choice Summer Movie Star: Channing Tatum, 22 Jump Street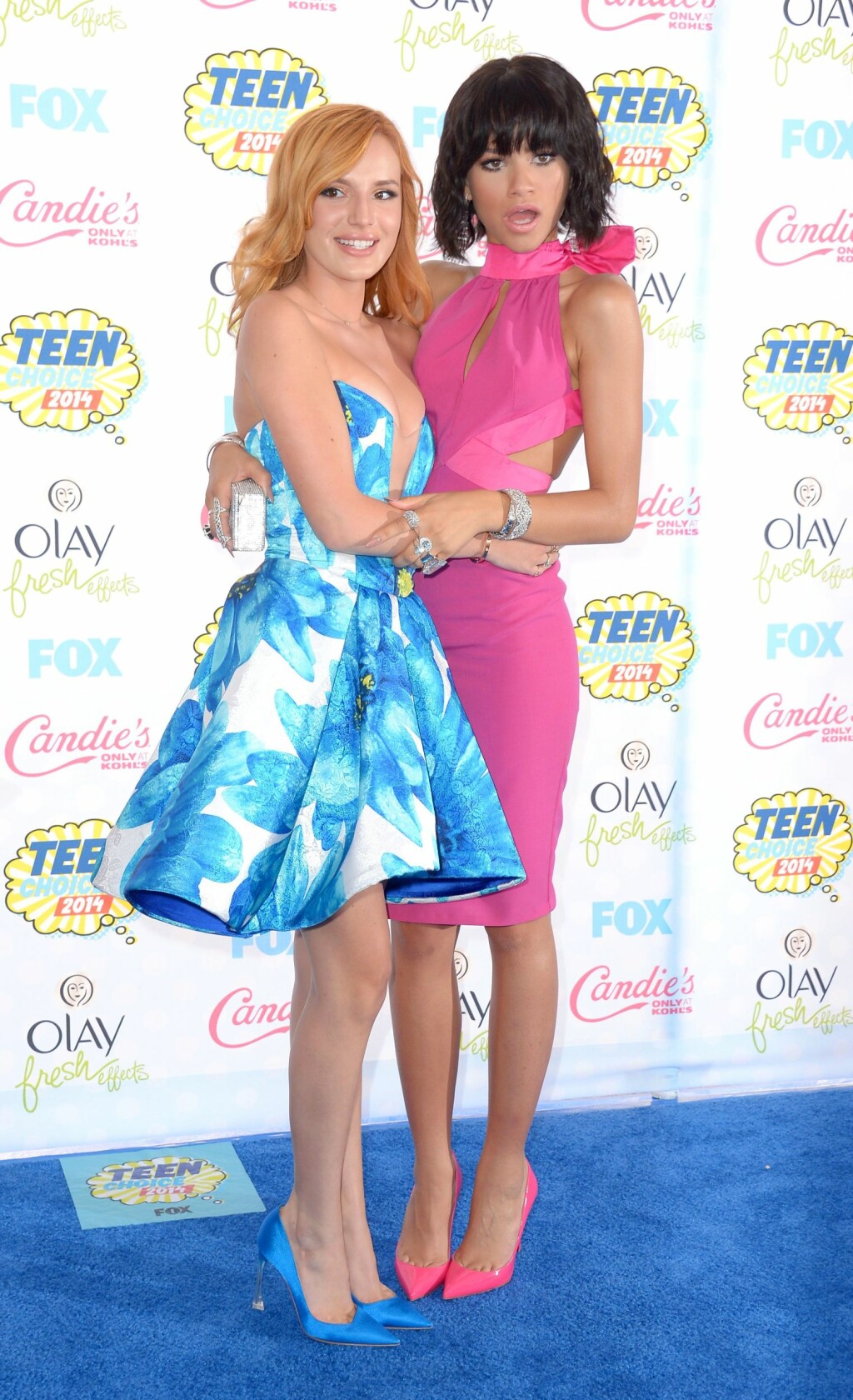 Choice TV Show, Drama: Pretty Little Liars
Choice TV Actor: Drama: Ian Harding, Pretty Little Liars
Choice TV Actress: Drama: Lucy Hale, Pretty Little Liars
Choice TV Show: Fantasy/Sci-Fi: The Vampire Diaries
Choice TV Actor: Sci-Fi/Fantasy: Ian Somerhalder, The Vampire Diaries
Choice TV Actress: Sci-Fi/Fantasy: Nina Dobrev, The Vampire Diaries
Choice TV Show: Comedy: The Big Bang Theory

Choice TV Actor: Comedy: Ross Lynch, Austin & Ally
Choice TV Actress: Comedy: Lea Michele, GLEE
Choice TV, Animated Show: THE SIMPSONS
Choice TV, Reality Competition Show: The Voice
Choice TV, Reality Show, Keeping Up With The Kardashians
Choice TV Villain: Dylan O'Brien, Teen Wolf

Choice TV Reality Personality, Male: Adam Levine, The Voice
Choice TV Reality Personality, Female: Shakira, The Voice
Choice TV Male Scene Stealer: Tyler Hoechlin, Teen Wolf
Choice TV Female Scene Stealer: Candice Accola, The Vampire Diaries
Choice TV Female Breakout Star: Sasha Pieterse, Pretty Little Liars
Choice TV, Male Breakout Star: Brett Dalton, Agents of S.H.I.E.L.D.
Choice TV, Breakout Show: Faking It
Choice Summer TV Show: Wipeout

Choice Summer TV Star, Male: Tyler Blackburn, Pretty Little Liars
Choice Summer TV Star, Female: Ashley Benson, Pretty Little Liars
Choice Male Artist: Ed Sheeran
Choice Female Artist: Ariana Grande
Choice Music Group: One Direction
Choice Electronic Dance Music (EDM) Artist: Calvin Harris
Choice R&B/Hip-Hop Artist: Iggy Azalea
Choice Rock Group: Imagine Dragons
Choice Male Country Artist: Hunter Hayes

Choice Female Country Artist: Taylor Swift
Choice Country Group: Lady Antebellum
Choice Country Song: "This is How We Roll," Florida Georgia Line featuring Luke Bryan
Choice Single Female Artist: "Problem," Ariana Grande featuring Iggy Azalea
Choice Single Male Artist: "Sing," Ed Sheeran
Choice Single Group: "Story of My Life," One Direction
Choice R&B/Hip-Hop Song: "Fancy," Iggy Azalea featuring Charli XCX
Choice Rock Song: "Pompeii," Bastille
Choice EDM Song: "Wake Me Up," Avicii

Choice Love Song: "You & I," One Direction
Choice Break-Up Song: "Story of My Life," One Direction
Choice Music Breakout Artist; Austin Mahone
Choice Music Breakout Group: 5 Seconds of Summer
Choice Summer Song: "Really Don't Care," Demi Lovato featuring Cher Lloyd
Choice Summer Music Star, Female: Demi Lovato
Choice Summer Music Star, Male: Jason Derulo
Choice Summer Music Star, Group: 5 Seconds of Summer
Choice Summer Tour: One Direction, "Where We Are Tour"
Candie's Choice Style Icon: Zendaya

Choice Female Hottie: Selena Gomez
Choice Male Hottie: One Direction
Choice Smile: Harry Styles
Choice Male Athlete: LeBron James
Choice Female Athlete: Serena Williams
Choice Web Star, Female: Bethany Mota
Choice Web Star, Male: Tyler Oakley
Choice Web Star, Comedy: Our2ndLife
Choice Web Star, Music: Shawn Mendes

Choice Web Star, Fashion/Beauty: Zoe Sugg ("Zoella")
Choice Web Star, Gaming: PewDiePie
Choice Web Collaboration: Troye Sivan & Tyler Oakley - The "Boyfriend" Tag
Choice Social Media King: One Direction
Choice Social Media Queen: Katy Perry
Choice Twit: One Direction

Choice Viner: Cameron Dallas
Choice Instagrammer: Miley Cyrus
Choice Fanatic Fans: #Directioners
Choice Comedian: Kevin Hart
LES OGSÅ: - Jeg er redd for hva som vil skje med bildene
Lik Se og Hør på Facebook