SEOGHØR.NO: Natt til mandag gikk en av årets mest stjernespekkede prisutdelinger av stabelen i Los Angeles; Emmy Awards - TV-bransjens svar på Oscar.
Se de nominerte og vinnerne i bunnen av saken!
Utenfor Microsoft Theater i downtown Los Angeles skled noen av verdens mest berømte kjendiser ned den røde løperen og smilte til fotografene før de hastet videre for å få med seg showet.
Det er bare tre uker siden MTV Video Music Awards ble holdt på samme sted, og den gangen sjokkerte programlederen Miley Cyrus (22) med kveldens mest vågale antrekk.
Mens stjernene gjerne viser frem sine mest dristige antrekk under MTV VMA, så har Emmy Awards en mer smakfull kleskode.
Her har Hollywood-stjernene sjansen til å vise seg fra sin beste side, og forventningene er ofte høye til hva de har på. De mest berømte fjesene kan nemlig velge og vrake blant glamorøse designerkjoler, og har en hel stall med stylister rundt seg som skal få dem til å stråle under den prestisjefylte utdelingen.
Saken fortsetter under bildet.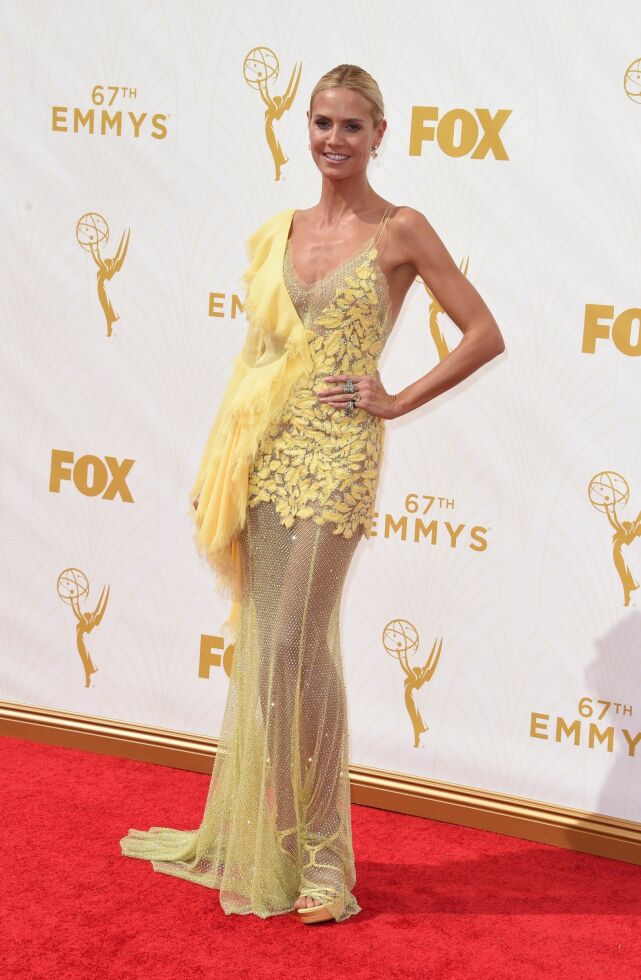 En kjole som ikke ble spesielt godt mottatt av presse og fans var den kanarigule Versace-kjolen til supermodellen Heidi Klum (42) - som var nominert til Emmy for showet «Project Runway» hvor hun er en av dommerne.
- Det er på tide å la den sexy Versace-kjolen få hvile, ok? Hun har kroppen til å gå med en så dristig kreasjon, men hun har kjørt denne stilen utallige ganger allerede, skriver E!Online.com.
Motebladet Marie Claire kunne ikke vært mer enig, og la ut dennne Twitter-meldingen hvor de sammenlignet Klum med en kanarifugl.
Heller ikke fansen var imponert over kjolevalget hennes.
Is Heidi Klum's dress done with the leftover material from a Project Runway challenge?

— Taty (@DunnaFuty) September 20, 2015
Nattens vert var komikeren og skuespilleren Andy Samberg (37), kjent fra blant annet «Saturday Night Live», og han ledet publikum gjennom et forrykende show.
I år er det var det den populære TV-serien «Games of Thrones», hvor norske Kristofer Hivju (36) står på rollelisten, som hadde flest nominasjoner, hele 24 stykker, og de ble også kveldens store vinner.
I fjor var det «Breaking Bad» som stakk av med de gjeveste prisene for beste dramaserie, beste mannlige hovedroll, beste kvinnelige birolle og beste mannlige birolle.
Emmy-vinnerne finner du nederst i saken.
[views:embed:node_embed:block:81835]
Her er årets Emmy-nominerte. Vinnerne er uthevet:
OUTSTANDING DRAMA SERIES
"Better Call Saul"
"Downton Abbey"
"Game of Thrones"
"Homeland"
"House of Cards"
"Mad Men"
"Orange is the New Black"
OUTSTANDING COMEDY SERIES
"Louie"
"Modern Family"
"Parks and Recreation"
"Silicon Valley"
"Transparent"
"Unbreakable Kimmy Schmidt"
"Veep"
LEAD ACTOR, DRAMA
Bob Odenkirk, "Better Call Saul"
Kyle Chandler, "Bloodline"
Kevin Spacey, "House of Cards"
Jon Hamm, "Mad Men"
Jeff Daniels, "The Newsroom"
Liev Schreiber, "Ray Donovan"
LEAD ACTRESS, DRAMA
Taraji P. Henson, "Empire"
Claire Danes, "Homeland"
Viola Davis, "How to Get Away with Murder"
Tatiana Maslany, "Orphan Black"
Elisabeth Moss, "Mad Men"
Robin Wright, "House of Cards"
LEAD ACTOR, LIMITED SERIES OR MOVIE
Timothy Hutton, "American Crime"
Ricky Gervais, "Derek Special"
Adrien Brody, "Houdini"
David Oyelowo, "Nightingale"
Richard Jenkins, "Olive Kitteridge"
Mark Rylance, "Wolf Hall"
LEAD ACTRESS, LIMITED SERIES OR MOVIE
Felicity Huffman, "American Crime"
Jessica Lange, "American Horror Story"
Queen Latifah, "Bessie"
Maggie Gyllenhaal, "The Honorable Woman"
Frances McDormand, "Olive Kitteridge"
Emma Thompson, "Sweeney Todd: The Demon Barber Of Fleet Street"
LEAD ACTOR, COMEDY
Anthony Anderson, "black-ish"
Matt LeBlanc, "Episodes"
Don Cheadle, "House of Lies"
Will Forte, "The Last Man On Earth"
Louis C.K., "Louie"
William H. Macy, "Shameless"
Jeffrey Tambor, "Transparent"
LEAD ACTRESS, COMEDY
Lisa Kudrow, "The Comeback"
Lily Tomlin, "Grace And Frankie"
Amy Schumer, "Inside Amy Schumer"
Edie Falco, "Nurse Jackie"
Amy Poehler, "Parks And Recreation"
Julia Louis-Dreyfus, "Veep"
REALITY-COMPETITION SERIES
"The Amazing Race"
"Dancing With The Stars"
"Project Runway"
"So You Think You Can Dance"
"Top Chef"
"The Voice"
VARIETY TALK SERIES
"The Colbert Report"
"The Daily Show With Jon Stewart"
"Jimmy Kimmel Live"
"Last Week Tonight With John Oliver"
"Late Show With David Letterman"
"The Tonight Show Starring Jimmy Fallon"
LIMITED SERIES
"American Crime"
"American Horror Story: Freak Show"
"The Honorable Woman"
"Olive Kitteridge"
"Wolf Hall"
VARIETY SKETCH SERIES
"Drunk History"
"Inside Amy Schumer"
"Key & Peele"
"Portlandia"
"Saturday Night Live"
TELEVISION MOVIE
"Agatha Christie's Poirot: Curtain, Poirot's Last Case"
"Bessie"
"Grace of Monaco"
"Hello Ladies: The Movie"
"Killing Jesus"
"Nightingale"
SUPPORTING ACTOR, DRAMA
Jonathan Banks, "Better Call Saul"
Ben Mendelsohn, "Bloodline"
Jim Carter, "Downton Abbey"
Peter Dinklage, "Game Of Thrones"
Alan Cumming, "The Good Wife"
Michael Kelly, "House Of Cards"
SUPPORTING ACTRESS, DRAMA
Joanne Froggatt, "Downton Abbey"
Lena Headey, "Game Of Thrones"
Emilia Clarke, "Game Of Thrones"
Christine Baranski, "The Good Wife"
Christina Hendricks, "Mad Men"
Uzo Aduba, "Orange Is The New Black"
GUEST ACTOR, DRAMA
Alan Alda, "The Blacklist"
Michael J. Fox, "The Good Wife"
F. Murray Abraham, "Homeland"
Reg E. Cathey, "House of Cards"
Beau Bridges, "Masters Of Sex"
Pablo Schreiber, "Orange Is The New Black"
GUEST ACTRESS, DRAMA
Margo Martindale, "The Americans"
Diana Rigg, "Game of Thrones"
Rachel Brosnahan, "House Of Cards"
Cicely Tyson, "How To Get Away With Murder"
Allison Janney, "Masters Of Sex"
Khandi Alexander, "Scandal"
SUPPORTING ACTOR, COMEDY
Andre Braugher, "Brooklyn Nine-Nine"
Adam Driver, "Girls"
Keegan-Michael Key, "Key & Peele"
Ty Burrell, "Modern Family"
Tituss Burgess, "Unbreakable Kimmy Schmidt"
Tony Hale, "Veep"
SUPPORTING ACTRESS, COMEDY
Mayim Bialik, "The Big Bang Theory"
Niecy Nash, "Getting On"
Julie Bowen, "Modern Family"
Allison Janney, "Mom"
Kate McKinnon "Saturday Night Live"
Gaby Hoffmann, "Transparent"
Jane Krakowski, "Unbreakable Kimmy Schmidt"
Anna Chlumsky, "Veep"
GUEST ACTOR, COMEDY
Mel Brooks, "The Comedians"
Paul Giamatti, "Inside Amy Schumer"
Bill Hader, "Saturday Night Live"
Louis C.K., "Saturday Night Live"
Bradley Whitford, "Transparent"
Jon Hamm, "Unbreakable Kimmy Schmidt"
GUEST ACTRESS, COMEDY
Christine Baranski, "The Big Bang Theory"
Gaby Hoffmann, "Girls"
Pamela Adlon, "Louie"
Elizabeth Banks, "Modern Family"
Joan Cusack, "Shameless"
Tina Fey, "Unbreakable Kimmy Schmidt"
SUPPORTING ACTOR, LIMITED SERIES OR MOVIE
Richard Cabral, "American Crime"
Denis O'Hare, "American Horror Story: Freak Show"
Finn Wittrock, "American Horror Story: Freak Show"
Michael Kenneth Williams, "Bessie"
Bill Murray, "Olive Kitteridge"
Damian Lewis, "Wolf Hall"
SUPPORTING ACTRESS, LIMITED SERIES OR MOVIE
Regina King, "American Crime"
Sarah Paulson, "American Horror Story: Freak Show"
Angela Bassett, "American Horror Story: Freak Show"
Kathy Bates, "American Horror Story: Freak Show"
Mo'Nique, "Bessie"
Zoe Kazan, "Olive Kitteridge"
WRITING FOR A DRAMA SERIES
Joshua Brand for The Americans, "Do Mail Robots Dream Of Electric Sheep?"
Gordon Smith for Better Call Saul, "Five-O" from AMC
David Benioff and D.B. Weiss for Game Of Thrones, "Mother's Mercy"
Semi Chellas and Matthew Weiner for Mad Men, "Lost Horizon"
Matthew Weiner for Mad Men, "Person To Person"
DIRECTING FOR A DRAMA SERIES
Tim Van Patten for Boardwalk Empire, "Eldorado"
David Nutter for Game Of Thrones, "Mother's Mercy"
Jeremy Podeswa for Game Of Thrones, "Unbowed
Lesli Linka Glatter for Homeland, "From A To B And Back Again"
Steven Soderbergh for The Knick, "Method And Madness"
WRITING FOR A COMEDY SERIES
David Crane and Jeffrey Klarik for Episodes, "Episode 409"
Will Forte for The Last Man On Earth, "Alive In Tucson"
Louis C.K. for Louie, "Bobby's House"
Alec Berg for Silicon Valley, "Two Days Of The Condor"
Jill Soloway for Transparent, "Pilot"
Simon Blackwell, Armando Iannucci and Tony Roche for Veep, "Election Night"
DIRECTING FOR A COMEDY SERIES
Phil Lord and Christopher Miller for The Last Man On Earth, "Alive In Tucson"
Louis C.K. for Louie, "Sleepover"
Mike Judge for Silicon Valley, "Sand Hill Shuffle"
Jill Soloway for Transparent, "Best New Girl"
Armando Iannucci for Veep, "Testimony"
WRITING FOR A LIMITED SERIES, MOVIE OR DRAMATIC SPECIAL
John Ridley for American Crime, "Episode One"
Dee Rees, Christopher Cleveland, Bettina Gilois and Horton Foote for "Bessie"
Stephen Merchant, Gene Stupnitsky and Lee Eisenberg for "Hello Ladies: The Movie"
Hugo Blick for "The Honorable Woman"
Jane Anderson or "Olive Kitteridge"
Peter Straughan for "Wolf Hall"
DIRECTING FOR A LIMITED SERIES, MOVIE OR DRAMATIC SPECIAL
Ryan Murphy for "American Horror Story: Freak Show"
Dee Rees for "Bessie"
Hugo Blick for "The Honorable Woman"
Uli Edel for "Houdini"
Tom Shankland for "The Missing"
Lisa Cholodenko for "Olive Kitteridge"
Peter Kosminsky for "Wolf Hall"
LES OGSÅ: De beste og verste Emmy-kjolene
Lik Se og Hør på Facebook